Double Helix
Biography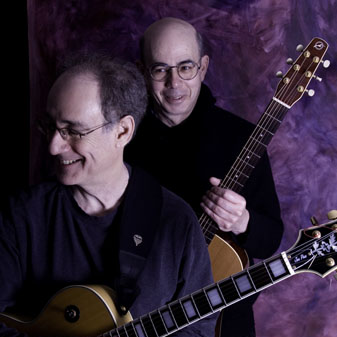 Tony and Peter Chotem grew up surrounded by music and artists of various kinds. Their father, Neil Chotem, was one of Montreal's busiest musicians. Neil Chotem composed, arranged, and played for Quebec's biggest stars including Quebec's most successful rock band: Harmonium. From their father, Tony and Peter learned the value of originality and the need to develop both as composers and as players. Their jazz sets stand out due to the large percentage of originals that are included. Another important lesson they learned from their father was the value of versatility and that there are no real boundaries in music. They are equally happy improvising to an ancient Celtic melody as to a 20th century blues standard. Last but not least, they learned the value of good arranging. Even familiar standards sparkle with fresh ideas and unexpected arrangements.
Tony Chotem studied jazz and classical guitar at McGill University in Montreal. He has recorded with Columbia Records and for the Canadian Broadcasting Corporation. He currently lives in Vancouver, British Columbia where, when he is not performing or recording with Double Helix, he works as a free-lance musician, arranger and producer. He also teaches both privately and at Capilano University.
Peter Chotem lives in Vancouver, British Columbia where he divides his time between teaching, composing and, of course, Double Helix.
Tony and Peter, the core of Double Helix, perform frequently as a duo but also love to draw upon Vancouver's many excellent bassists and drummers to round out their ensemble. They are active members of Vancouver's busy jazz scene, playing clubs, restaurants, festivals, concerts and corporate events.
In August 2009, they were the runner up band in Ropeadope Radio's Sonicbids Competition and were featured on Ropeadope's main blog. Tracks from their most recent CD are currently being streamed on the following on-line radio networks: Kanal Jazz, Indie104-iRadioLA, Uptown Jazz Network, and One Life One Family Radio. In January 2010, they were selected to perform at the Orion Independent Music Festival in Salt Lake City, Utah. In July 2010, they performed at the 2010 Vancouver International Jazz Festival. In September 2010, they were nominated in the "Best Jazz" category at the 2010 Barrie New Music Festival. In March 2012, Double Helix completed their first Canadian tour with performances in Regina, Saskatoon and at Canadian Music Week in Toronto. They were also invited back to perform at the 2012 Vancouver International Jazz Festival.
In July 2013, Double Helix embarked on a second Canadian tour featuring engagements at some of Ottawa and Montreal's leading jazz venues. Their subsequent 2014 tour of the BC interior included gigs in Kelowna, Enderby, Revelstoke, Nelson and Princeton. They have also begun work on their next full length original jazz album although there is as yet no official release date.
Double Helix's EPK (Press Kit)
Albums
Phoenix Rising is an album of nine original jazz compositions by guitarists Tony and Peter Chotem and their jazz quartet Double Helix.